FALL COLORS IN THE CANADIAN ROCKIES
Once only, in September 2023 we have curated a Canadian Rockies holiday that ticks all the boxes for an unforgettable journey – the majestic panorama of the Canadian Rockies with the three Crown Jewels of the region: Banff, Lake Louise and Jasper.
Our Eastern offerings, like those in the West, are designed to give maximum visual splendor and also feature train travel through areas that are especially scenic. Our exclusive 'Royal Canadian Holiday' with the Queen Mary 2 each fall offers the rare ability to enjoy vista-dome train travel to Niagara Falls, the start of our tour, aboard the Maple Leaf Limited.
Our 'Fall Colors in Quebec and Vermont' also features vintage private train travel from New York City to Montreal at the start of the program with a daylight passage up the Hudson River Valley, through the Adirondacks and along Lake Champlain, a visual feast in the words of a BBC writer. Our 'Train Holiday to the Great Smoky Mountains' features the wonderfully scenic trip aboard the Great Smoky Mountain Railroad, at the perfect times of the year. Because of limited capacity, all of these programs sell out so prompt reservations are always wise.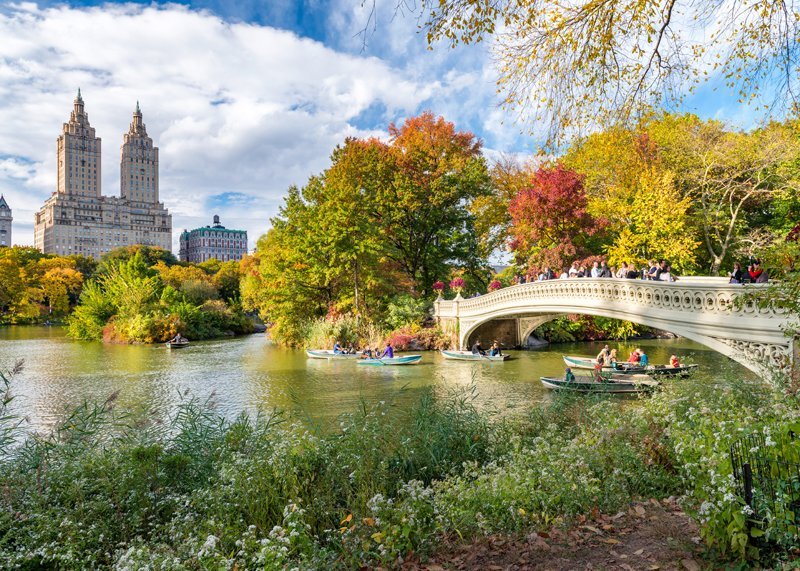 ITINERARIES IN THE EASTERN U.S.
Spring & Fall in the Great Smoky Mountains
2023 DATES:
October 21 to 30
2024 DATES:
April 20 to 29
October 19 to 28
RATES:
10 Days from $4,395 per person
Another relaxing holiday by train that only we offer. With free or reduced cost train travel from any US city to Charlotte, this holiday offers up great sights and southern hospitality with a gentle pace and great dining. After Charlotte, we enjoy two nights in Asheville taking in the famed Biltmore Estate of the Vanderbilts along with and a steam train ride over the Great Smoky Mountain Railroad.
Next is two nights in the heart of the Smokies with complete touring of Great Smokies National Park including Cades Cove. Next, two nights in Chattanooga with a ride aboard the Tennessee Valley Railroad through Hiwassee River Gorge and visits to Lookout Mountain and Ruby Falls. Last but not least are two nights in Memphis, home of Elvis and the Blues with time to explore historic Beale St, Graceland, and the National Civil Rights Museum.
JOURNEY TO NEWFOUNDLAND with FRENCH & ATLANTIC CANADA
2024 DATES:
AUGUST 29 TO SEPTEMBER 10
RATES:
13 Days from $3,595 per person
Very rarely do we come across an itinerary so unique and distinctive to such a remote and magnificent location not offered in years – and at the perfect time of the year. Begin with a vintage train trip from New York City to Burlington, VT, riding two vintage cars built during the golden era of train travel, a superb beginning to your extraordinary holiday. Enjoy time in quaint Burlington and chic Montreal with fine hotels, a special Welcome Dinner and plenty of free time before a most unique cruise aboard Holland America's intimate ms Volendam, carrying only 1,400 passengers.
Set sail down the St Lawrence River calling at Quebec City, Baie-Comeau and Havre-Saint-Pierre before the highlight of your holiday – three ports in Newfoundland: Corner Brook, St Anthony and St Johns, giving you up close views of this ruggedly beautiful Province including glorious Gros Morne National Park, a UNESCO World Heritage Site. Then it's onward to historic Halifax and epicurean Portland before concluding your voyage in Boston. With a fabled train, a highly rated Dutch Ocean Liner and a superlative itinerary, we invite you to join us as we know this uncommon journey will sell out quickly. All Aboard!
Royal Canadian Holiday
2023 DATES:
September 30 to October 13
2024 DATE:
September
23 to October 4
RATES:
14 Days (12 Days in 2024) from $4,695 per person
Revel in the autumnal glory of Canada on this exquisite voyage, an unexpected yet perfect marriage of urbane Toronto, cosmopolitan Montrêal and enchating Quebec City with a superlative voyage aboard Queen Mary 2, the last great ocean liner afloat. Your journey begins with a picturesque ride on the Maple Leaf Limited train to Niagara Falls, where you'll take in this inimitable wonder aboard the famed Maid of the Mist. In each of Canada's cities, you'll enjoy sightseeing tours and dining in a renowned restaurant, as well as ample free time to absorb the sights on your own terms.
Once aboard majestic Queen Mary 2, delight in the rarefied atmosphere of this storied vessel, where each public room astonishes more than the last. Depending on your choice of the 2023 or 2024 itinerary, you'll absorb the picturesque charm of Quebec's seaside villages, explore the rugged landscapes of Nova Scotia, gaze in awe at the mansions of Newport or uncover the enthralling history of Boston. And with our professional and friendly tour manager always on hand, you never need worry about a single detail. All aboard!
Canada & New England with the Queen
2023 DATES:
September 29 to October 8 – ONCE ONLY!
RATES:
10 Days from $2,995 per person
Some moments are so perfect, they simply can never be duplicated. That's why this special fall foliage adventure featuring a voyage on Cunard Line's peerless Queen Mary 2 is offered just once only. After sailing from New York City, enjoying incomparable views of The Big Apple's iconic skyline, embark on a rare 7-night voyage on Cunard's flagship, revitalized with a recent refurbishment that added new lounges and enhanced dining. Soak up the Scottish vibe of Halifax, look for whales off the Gaspé Peninsula and discover the art galleries of Saguenay, the perfect Canadian crescendo before your arrival in sublime Quebec City, a UNESCO World Heritage site.
You'll appreciate an overnight stay aboard Queen Mary 2, allowing for evening exploration of this magical city and its castle-like Château Frontenac. Follow your cruise with two glorious nights in Montreal, a city so European that you'll feel as if you are on another continent. Punctuate your journey with a spectacularly scenic train ride through the fall foliage of Vermont on Amtrak's Adirondack en route to the glittering lights of New York City.
Fall Colors in Vermont & Quebec with the Queen
2023 Date:
October 4 to 13
2024 Date:
September 27 to October 6
RATES:
10 Days from $3,095 per person
While many ships offer autumn voyages to Canada & New England, there is only one iconic Queen Mary 2, the grandest ocean liner afloat and your elegant conveyance on a fall cruise in a style and opulence unmatched by any other ship afloat. For further autumnal immersion, we've combined this unique voyage with a scenic train journey from New York City to Vermont along with two nights in lovely Burlington, Vermont, a town of great charm on the shores of Lake Champlain that boasts wonderful shops, galleries, cafes, microbreweries and much more.
After two nights in this lovely setting, relax during a short drive to magical Quebec City, as close as you can get to Paris in the New World. Relish a remarkable 26-hour stay in this historic heart of French Canada, with the stately Queen Mary 2 as your hotel. With complimentary or low-cost train travel to & from New York City from over 198 U.S. cities and towns, transfers, special parties and events both ashore and aboard Queen Mary 2, this is a superb holiday at a most attractive price.