FALL COLORS IN THE CANADIAN ROCKIES
Once only, in September 2023 we have curated a Canadian Rockies holiday that ticks all the boxes for an unforgettable journey – the majestic panorama of the Canadian Rockies with the three Crown Jewels of the region: Banff, Lake Louise and Jasper.
Being based in California, we must admit a built-in bias to the Western United States and we cover this beautiful region from top to bottom, starting at Glacier National Park, Montana and extending all the way to the Grand Canyon and Los Angeles in the south. Our Great Western Limited classic train offers vista-dome viewing over three different routes with all scenic sections timed for daylight.
Whether you choose our stunning 'Elegant Canadian Rockies' program with Glacier National Park, Montana or the awe-inspiring 'Yosemite to Denali' holiday which features a virtuoso visual treat with Yosemite, Alaska's Inside Passage and Denali all in one sublime, relaxing vacation, we can show you the West best. We look forward to welcoming you aboard.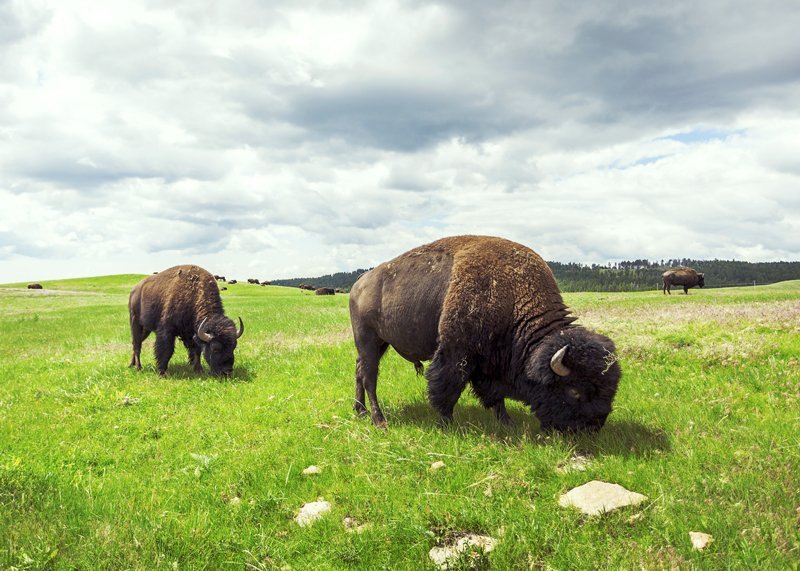 ITINERARIES IN THE WESTERN U.S.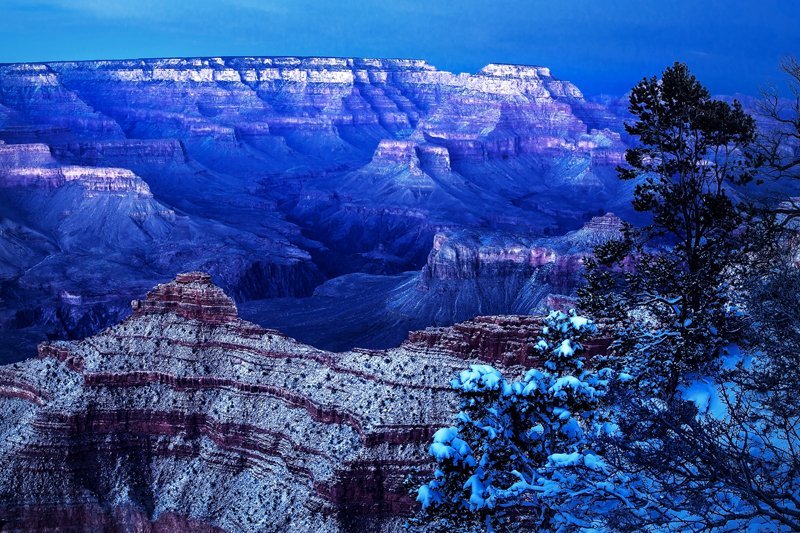 New Year's at the Grand Canyon
2023/24 DATE:
December 29, 2023 – January 5, 2024
2024/25 DATE:
December 29, 2024 – January 5, 2025
RATES:
8 Days from $2,395 per person
One of our most popular and affordable holidays to one of the prettiest places on earth. Travel to Gallup, New Mexico aboard the Southwest Chief train from either California or Midwest points starts this eight-day getaway, followed by a trip over the storied Grand Canyon Railway to the South Rim of the Grand Canyon. While cool, this is a magical time to be at the Grand Canyon with a light dusting of snow against the purple canyon walls and few visitors.
We have two nights at the South Rim with sightseeing and free time before, on January 2nd, doing the scenic drive to Las Vegas for a three-night stay at the iconic Paris Las Vegas Hotel. Here too, fine dining awaits including a magnificent farewell dinner at famed Lawry's, the Prime Rib. Starting at just $2,395pp, this is a wonderful end to a year, or a nice beginning to a new one.
Connoisseurs Great Pacific Northwest
2024 DATE:
September 14 to 22
RATES:
10 Days from $3,595 per person
For September of 2024 we have created a special one-time holiday that combines in one relaxing trip a number of unusual destinations in the great Pacific Northwest along with two famed modes of travel: Amtrak's Coast Starlight train with its epic views of the Pacific coast and the ocean liner Queen Elizabeth, one of the nicest ships afloat, on a rare Pacific coastal voyage. To these fun modes of travel we have added in fine hotels, some great sightseeing, a visit to spectacular Olympic National Park in Washington and lovely Harrison Hot Springs, BC.
After two blissful nights at Harrison Hot Springs a short drive brings us to Vancouver, where another highlight awaits, a grand bon voyage sailing day luncheon at the acclaimed Gotham Steakhouse, one of the highest rated restaurants in Canada. Saving the best for last, we then board the stately Queen Elizabeth at Vancouver Harbor, setting sail on a rare Pacific coastal voyage with all of the luxury and amenities you would expect on one of the world's most fabled ships. While there are many reasons to savor a short sampler voyage on the Queen Elizabeth, one of the best reasons is the excitement of sailing under San Francisco's majestic Golden Gate Bridge in true Ocean Liner fashion.
Best of the West
2023 DATE:
August 8 to 18
RATES:
11 Days from $5,795 per person
Gaze at the delicate persimmon-hued rock formations of Arches National Park and then peer across a landscape of extraordinary shapes carved over millennia by the Colorado River in Canyonlands National Park. Float down the Snake River beneath towering peaks in Grand Teton National Park, witness Old Faithful keep her schedule in Yellowstone National Park and in Glacier National Park, ascend to the heavens along the Going to the Sun Road.
This uncommon journey begins and ends with overnight rides on our private classic streamliner train, the Great Western Limited, where the Golden Age of Rail Travel is alive and well. Experience Lake McDonald's mirror-like waters, the frontier fun of Jackson and Park City's captivating silver mining history. As you watch the rising sun reveal the vertical cliffs of Moab, listen to the wind whisper through the pines at Yellowstone National Park, and touch the sky from the soaring mountains of Glacier National Park, the magnificence of America's beauty envelops you.
Wonders of the West
2023 DATE:
September 10 to 18
RATES:
9 Days from $4,895 per person
Bask in the grandeur of America's western landscapes, from surreal pools and geysers to idyllic lakes and colossal peaks seemingly shaped by a heavenly sculptor. Journey by elegant train to Glacier National Park, where you'll wind along the breathtaking Going to the Sun Road aboard a classic red open-air "jammer" bus. On the impressive Missouri River, glide through the Gates of the Mountains, a highlight of Lewis and Clark's legendary westward expedition.
You'll cruise the mirror-like waters of Lake McDonald and float on the sublimely scenic Snake River, ever-watched by the dramatic silhouette of the Grand Teton range. In timeless Jackson, soak up the exhilarating atmosphere of the Old West, and in intriguing Salt Lake City, applaud the architectural jewels of Temple Square. Whether watching majestic bison roam or spouts of steam gush skyward, this uncommon journey will bring you closer than ever to the miraculous wonders of the west.
Rockies to the Red Rocks
2023 DATE:
October 21 to 28
2024 DATE:
APRIL 16 TO 23
OCTOBER 29 TO NOVEMBER 5
RATES:
8 Days from $4,295 per person
Experience the majesty of America's spectacular Western parks, carved over the eons into masterpieces of nature, from the soaring stone bridges of Arches to the mesmerizing spires of Canyonlands and from Monument Valley's iconic vistas to the timeless grandeur of the Grand Canyon. Aboard the legendary Denver & Rio Grande Western Railroad, take in an extraordinary landscape of towering mountains, deep canyons, the Continental Divide and along the Colorado River, the same route once showcased by the original California Zephyr. 
As a special treat, marvel at the beauty of Dead Horse State Park, a rarely visited beauty just as stunning as the National Parks, and in the Grand Canyon, relish a panoramic ride aboard the historic Grand Canyon Railway. Along the journey, magical touches abound, including an expert Navajo guide in Monument Valley, two nights in entrancing Moab, a farewell dinner at Lawry's the Prime Rib in Las Vegas and, of course, all hotels, transportation and sightseeing included along with your dedicated Uncommon Journeys professional tour manager.
Canadian Rockies & Alaska with the Queen
2024 DATES:
July 27 – August 10 – ONCE ONLY!
RATES:
15 Days from $4,995 per person
For summer of 2024, we have a one-time special holiday that is very special indeed since it combines in one stylish and relaxed journey two places on every traveler's bucket list: Alaska's stunning Inside Passage including Glacier Bay and the majestic Canadian Rockies, both at the perfect lime of the year.
And since how one travels is often as important as the destination, here too, we offer up two more bucket list experiences: Travel through the heart of the Canadian Rockies on a stunning daylight passage aboard Via Rail Canada's showcase Canadian with its iconic dome cars followed by Alaska aboard the acclaimed Queen Elizabeth of Cunard Line. Thus, our guests enjoy the last great train in North America along with travel aboard a ship that is the heir to the great traditions established with the original Queen Mary, Queen Elizabeth and Queen Elizabeth 2. While countless ordinary cruise ships offer Alaska cruises, there is only one Queen ship offering it and these two components make our holiday a splendid undertaking.
Glories of the West
2024 DATE:
ONCE ONLY! August 22 to 31
RATES:
10 Days from $4,695 per person
Our new Glories of the West holiday offers up great vistas of some of the most extraordinary scenery in North America, on a leisurely paced and well-designed Western holiday. Begin in Denver with two nights in the 'Mile High City' which allows not only time to see the historic downtown center but a beautiful full day excursion that takes the storied Pikes Peak Cog Railway to the top of Pikes Peak, a short but fun ride aboard the Cripple Creek & Victor Narrow Gauge Railroad and last but not least a driving trip with an expert narrator through the epic Garden of the Gods.
Next we board the California Zephyr for a spellbinding day trip through the Rockies over the former Denver & Rio Grande Western Railroad, the "Main Line through the Rockies" to Utah, a visual feast of the highest order. Then we move on to two nights at lovely Colter Bay in Grand Teton National Park, Yellowstone National Park and then for a long time favorite of ours, the gorgeous Gates of the Mountain cruise on the Missouri River near Helena, made famous by Lewis & Clark on their great expedition west. After two nights in Helena, a scenic drive west to Coeur d'Alene Idaho and historic Spokane. Better still, as an early booking bonus, guests may continue to the grand spectacle of Alaska including Glacier Bay aboard Holland America Line for as little more as $199pp.
A Train Holiday to Grand Teton, Yellowstone, the Black Hills & Mt. Rushmore
2024 DATE:
September 13 to 22
RATES:
10 Days from $4,895 per person
For many years, our guests have asked us to offer a trip to impressive Mt. Rushmore in addition to our usual offerings to Grand Teton and Yellowstone each summer, and we have finally tailored the perfect holiday that offers, on one leisurely vacation, Grand Teton, Yellowstone, the Black Hills and Mt. Rushmore. Nicer still, our tour ends with a style and manner of transport that has all but vanished, travel aboard our own vintage streamliner train, the Great Western Limited on an overnight passage from Denver to Chicago, a rare chance to enjoy classic train travel with Pullman sleeping cars, an observation lounge car and excellent dining (naturally, all meals, wines & spirits while aboard are included).
Comfort, along with wildlife and stunning views, abounds on this trip, with most of our hotel stays being at least two nights long. Our guests enjoy time in Salt Lake City, Grand Teton, Yellowstone, historic Cody and three nights in Black Hills/Mt. Rushmore. Comprehensive sightseeing is featured and highlights include a cruise on lovely Jenny Lake in Grand Teton National Park, complete touring of Yellowstone including Old Faithful, the Upper and Lower Loops and the awe-inspiring Grand Canyon of Yellowstone. In Cody, there is not only a visit to the Buffalo Bill Historic Center but a chuckwagon dinner under the stars. And, of course, visits to Mt. Rushmore, Crazy Horse Monument, historic Deadwood and even a ride aboard the Black Hills Central Railroad.
Springtime in Yellowstone & Grand Teton
2024 DATE:
June 9 to 15
RATES:
7 Days from $3,495 per person
Our 'Springtime in Yellowstone & Grand Teton' is the first of our new Uncommon Journeys Select departures featuring deluxe small-group touring with never more than 14 guests on a luxury Mercedes Sprinter with personalized attention, roomy 2-1 seating, upgraded complimentary snacks (including See's candy) and best of all, the ability to see places and things not possible with a big bus.
We begin with a stay in one of America's grandest hotels in Spokane and then enjoy Yellowstone and Grand Teton at the perfect time of the year, before crowds and hot weather. With comprehensive sightseeing included everywhere, well-chosen hotels, most meals and a professional travel manager, this is a supremely comfortable way to travel. We look forward to welcoming you aboard.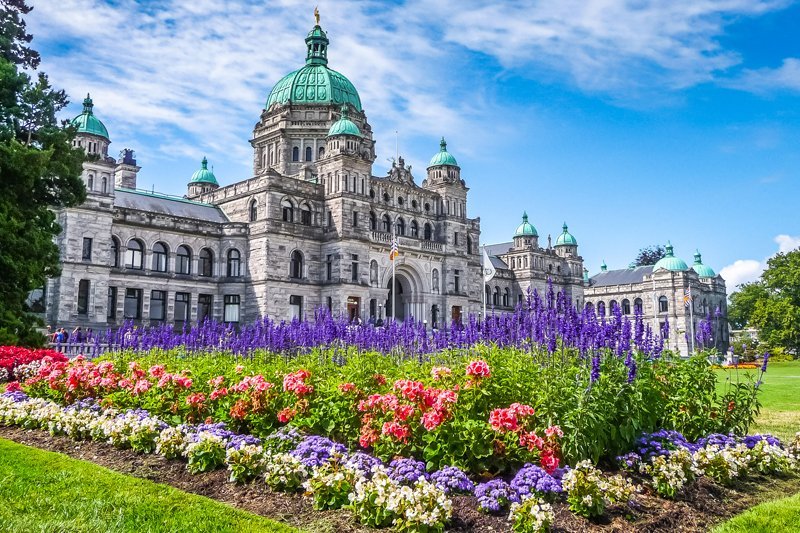 West Coast Swing
2024 DATE:
April 17 to 28 – Once Only!
RATES:
12 Days from $3,995 per person
Operating in Spring of 2024, our West Coast Swing offers up the very best of the West Coast by train and ship, with some of the prettiest sights on earth. Beginning in historic Old Sacramento, our guests enjoy relaxed visits with comprehensive sightseeing included to Yosemite, stunning Hearst Castle and Morro Bay, the California Coast, the wine growing region of Paso Robles, and San Diego.
And this is all before the highlight of our holiday, a rare five-day Pacific Coastal voyage aboard the splendid Nieuw Amsterdam of Holland America Line from San Diego to Vancouver that features two more legendary West Coast stops, lovely Santa Barbara and charming, very British Victoria, the capital of British Columbia, followed by Vancouver. With fine hotels, most meals and special attractions like the California State Railroad Museum and more, we look forward to showing you the very best of the West Coast. All Aboard!
Great Western Holiday
2023 DATE:
September 24 to October 1
2024 DATE:
September 20 to 27
RATES:
8 Days from $4,495 per person
This is a showcase trip that is literally and metaphorically a peak experience, combining in one holiday great train travel with extraordinary sights including Pikes Peak, the Royal Gorge, the Cumbres & Toltec Scenic Railway and three nights in glorious Santa Fe. Limited to 24 guests, we begin with vintage train from Chicago to Denver with classic Pullman sleeping cars, fine dining in a swank diner-lounge car and attentive service. Naturally all meals, wines & spirits aboard are included.
We then enjoy fine hotels along with rides on the famed Pikes Peak Cog Railway to the top of Pikes Peak, the Cripple Creek & Victor Narrow Gauge Railroad, and plenty of free time to enjoy lovely Colorado Springs. Heading south we travel on the storied Royal Gorge Railroad through the Royal Gorge before the high point of the trip, a steam train trip over the extraordinary Cumbres & Toltec Scenic Railroad, the longest, highest and most authentic steam railroad in the country. We traverse the entire line on this full day magical excursion. Saving the best for last, we then have three nights in glorious Santa Fe with great dining and sightseeing.  You may want to book now as this trip will sell out quickly.